Setting up an LG UltraFine 27UN850-W Monitor on Mac and Mini-Review
January 27, 2023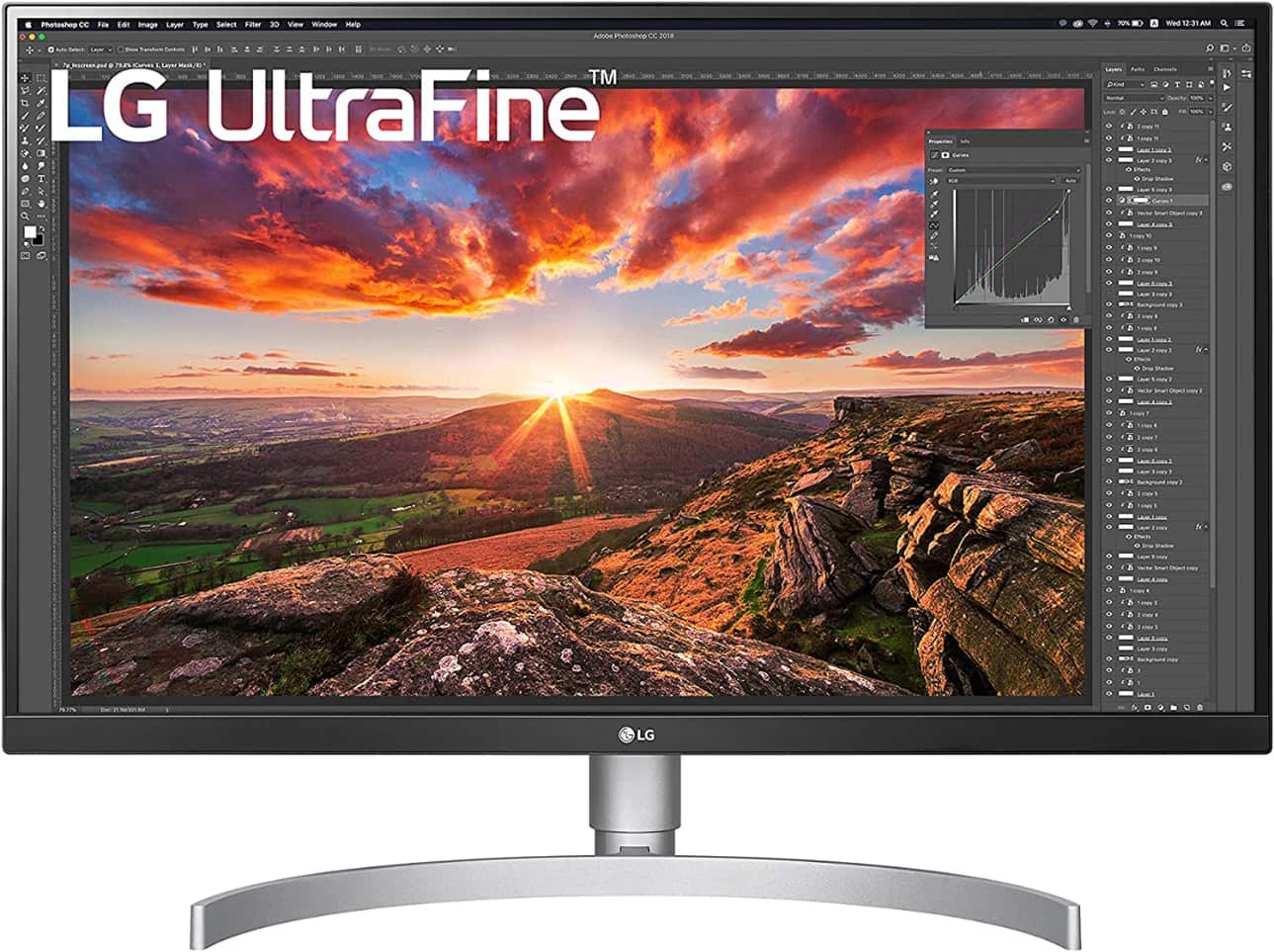 I bought a new 27" 4K monitor for coding and light graphics/design work on the Mac. The full name is LG UltraFine UHD 27-Inch Computer Monitor 27UN850-W, IPS with VESA DisplayHDR 400, AMD FreeSync, and USB-C, White.
This is not a full review, merely a short setup guide for my use-case, and a few random impressions.
Specs
I'm only listing the features I care about; for the full specs hit the official LG page above.
Resolution/Size 27" 4K (3840x2160) IPS @ 60Hz, 5ms response time
Stand Tilt/Height/Pivot (there's also a more expensive Ergo option)
Other Built-in 5W 2-channel speakers, AMD FreeSync, 60W power delivery over USB-C
Included Power adapter, USB-C data/power cable, HDMI cable
Price ~$406 on Amazon with tax and free shipping ($450 retail)
Setup
The monitor came out of the box with super-saturated colors that frankly looked horrible side-by-side to my MacBook Pro. Here's what I adjusted to bring the image down to more civilized levels. It doesn't match the MacBook's image 100%, but it comes close enough, and I'm happy for the amount of work I put into it.
Position
side-by-side to the MacBook. I tried putting it directly in front and above the laptop, but even at full vertical extension it's not tall enough to clear the 16" screen. I briefly considered adding some books under it, but realized my head would be tilted upwards painfully.
height all the way down so that my eyes are level with the vertical center of the screen
Monitor settings
Setup > Picture > Picture Mode > change from Vivid to Cinema (though it will change to Custom later as you make the next adjustments)
Mac settings
System Settings > Displays > (select the LG monitor) >
Color Profile > Adobe RGB (1998)
Text Size > the 2nd largest one (2560x1440) - a good balance between text size and legibility
High Dynamic Range > Off - this gets rid of the text aliasing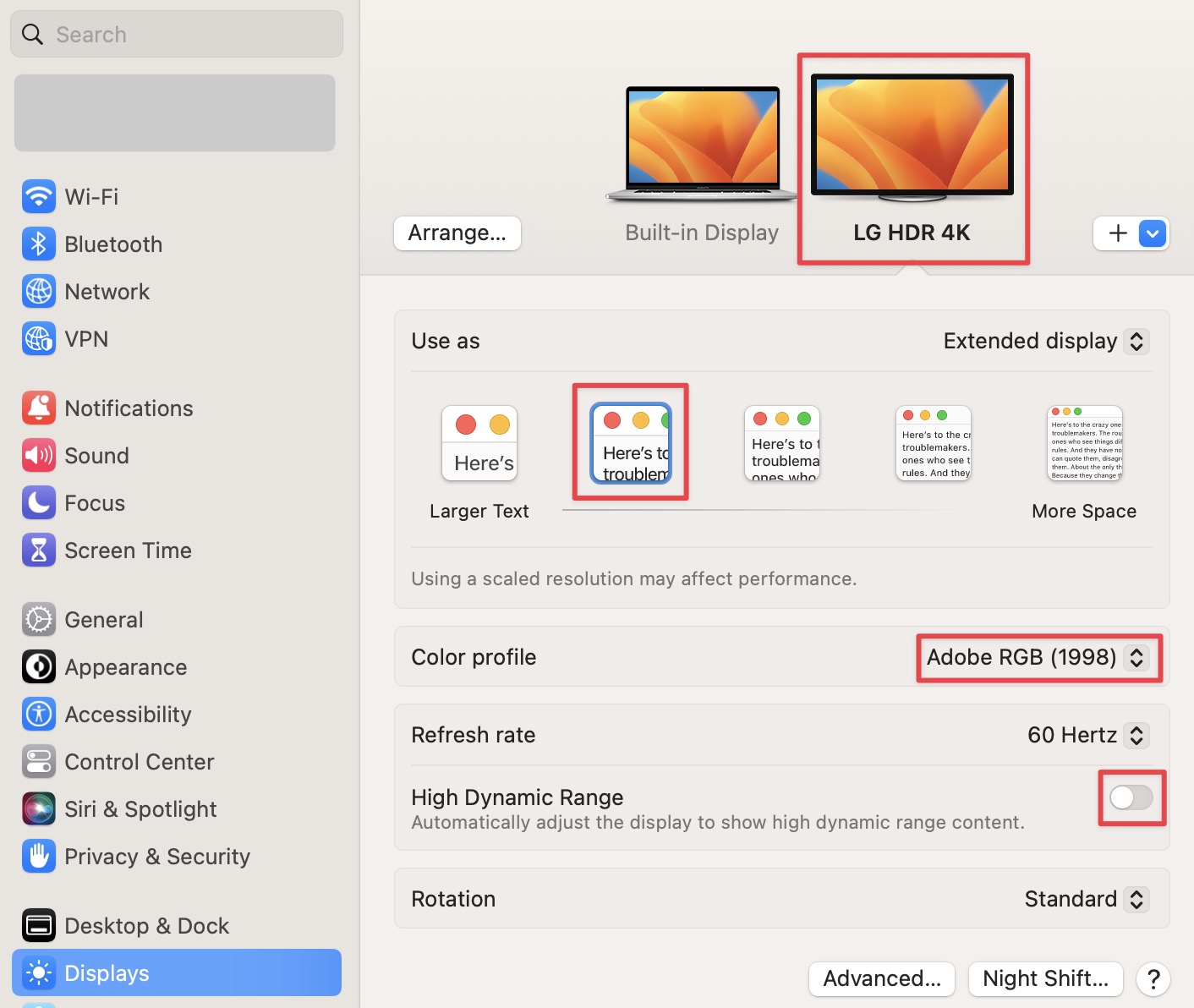 Random impressions
the stand is trivial to install (tool-free).
the stand adjustment is pretty versatile for what I need.
it looks good, the bezels are thin, and the silver/white trim pair well with a MacBook.
the OSD (on-screen display) looks modern and has plenty of adjustments, though I haven't played a lot with it.
it has a lot of outputs that should satisfy a lot of scenarios. Best of all, it acts as a USB hub which can also power the laptop over USB-C, in addition to the image output.
thanks to this, I can keep my desk clean, with a single cable connecting my MacBook. The other cables are tucked away behind the monitor, held together by a cable organizer.
text and image are sharp, coming close enough (for coding at least) to the Mac's Retina display.
there's plenty of real-estate to display 2 apps in a 1/2 split fashion.
I like having speakers on a monitor, even if they suck. These are loud-ish, but not great acoustically. A Mac Mini, for example, would benefit from them if you don't want to have separate speakers for any reason. The built-in MacBook Pro speakers are a lot better though, so that's what I'll continue to use.
Conclusion
If you can pick the LG 27UN850-W for a discount, at ~$400 it provides excellent value. It may not be ideal for a graphic designer, but as a coder I'm very happy with it so far.